Description
Key features of our Hardwearing Grass Seed
Suitable for gardens with pets, particularly dogs
Tough and durable grass, ideal for children playing
Suitable for high traffic areas
Good for damaged or dug up areas
Quick growing
Minimises the effects of salts from dog and other pet urine
Why is this Tough Grass Seed Good?
Hard wearing lawn seeds are made from high-quality ingredients such as ryegrasses, fescues and bentgrass.

Simply prepare the ground and plant the fast-growing seed mix, which produces rapid germination and growth. 

Create new lawns, fix urine patches, or improve existing grass with this highly effective grass seed.

Our tough grass lawn seed mixture has been created based on the UK weather, so it develops all year round.

This tough grass seed is super strong and hard wearing, for all pets and garden fun.

It's ideal for families with children and pets, and it can withstand heavy use in every weather.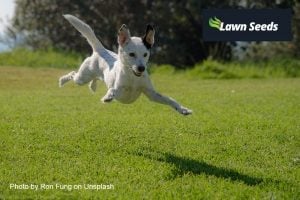 How to apply our Hardwearing Grass Seed
Preparation – Remove any dead or discoloured grass and break up hard soil to help the seeds bed in.
Application – Evenly apply our Grass Seed so that you evenly cover the exposed area ensuring that you can still see exposed soil. This encourages the seed to make contact with the soil. Only apply the recommended amount so that seeds get enough water and nutrients.
Watering – Once you have applied the seed ensure they get a thorough soaking of water. Try to avoid pooling the water in one particular area. Please ensure you water the affected areas daily ensuring the surface areas are moist, continue to do so until the new sprouted grass reach an approximate height of 4 cm or 2 inches.
Application Calendar
Our Hardwearing Grass Seed is best sown from mid to late Summer to mid-autumn, you will experience less competition from other plants such as weeds and soil will be warm. You can also sow during Spring but ensure you use plenty of water and avoid walking on fresh grass.
For a list of help and advise questions and answers please visit out help and advice section. Thank you.
You can find further advice on the best time to sow your hardwearing lawn seed by visiting the BBC website.