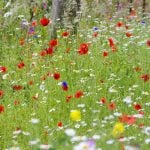 Mixture selection is very important for wildflower mixtures maintenance and it is essential to ensure that the correct mixture is selected to reflect the soil type and drainage characteristics of each site. We have a huge range of wildflowers to choose from to suit your particular soil type and situation. Growing Wildflowers is not only pretty but they help the environment, Bees and Butterflies both like wildflowers and if everyone sowed a patch we could save the bees.
Wildflower Mixtures Maintenance Site Preperation
Remove docks and thistles, nettles and weed grasses, and treat the site with glyphosate (following the manufacturer's instructions), prior to seedbed cultivation.
Wildflower Mixtures Maintenance Instructions
Cultivate site and allow to remain fallow if practical
Treat with glyphosate
Cultivate to 10cm
Sowing can take place throughout most of the year, providing a good tilth can be prepared, however, the months of March/April and August/ September are generally most suitable.
Mix seed – regularly mix to ensure even species distribution
Drill/broadcast – calibrate sowing device
Rate – 5gms/m mixtures with grass, 0.5 – 1.0gms/m pure wildflower mixture
Sand – bulk up seeding rates with 4 parts silica sand to 1 part seed weight
Raking/harrowing – mix seed into soil (depth approx. 0.5cm)
Ring roller – use Cambridge roller to firm seedbed